Discussion Starter
•
#1
•
First off I am a licensed mechanic. Please if you do not feel comfortable with changing brakes then take it a person like myself
I have 7000kms on my 06 Accent and the OEM pads are just plain garbage for my braking needs. I like to have good initial bite with my brakes and stopping power once they are warm. After searching the net for Hawk, PBR, Axxis etc I couldnt find a company that made good aftermarket pads. Then I remembered my friend talking about these Wagner pads that seemed pretty popular with autocrossers. They are made of a semi metallic carbon ceramic material that had good intial bite and very very little fade once warmed.
So for 42$ Cdn I bought them.
Tools and supplys
3/8 ratchet, 12mm Socket
1/2 breaker bar with 21mm socket (or use stock lug remover)
1/2 ratchet with 17mm socket
Hammer and flat head screw driver
Impact screw driver or torch if needed.
1 jack and 2 jack stands
C clamp or channel locks
wire brush
Pads and Rotors
Brake cleaner
Anti Seize Compound
Caliper slider lube
Sand paper
1. Loosen lugnuts with a 21mm socket, then jack up the car and place jackstands under the front crossmember.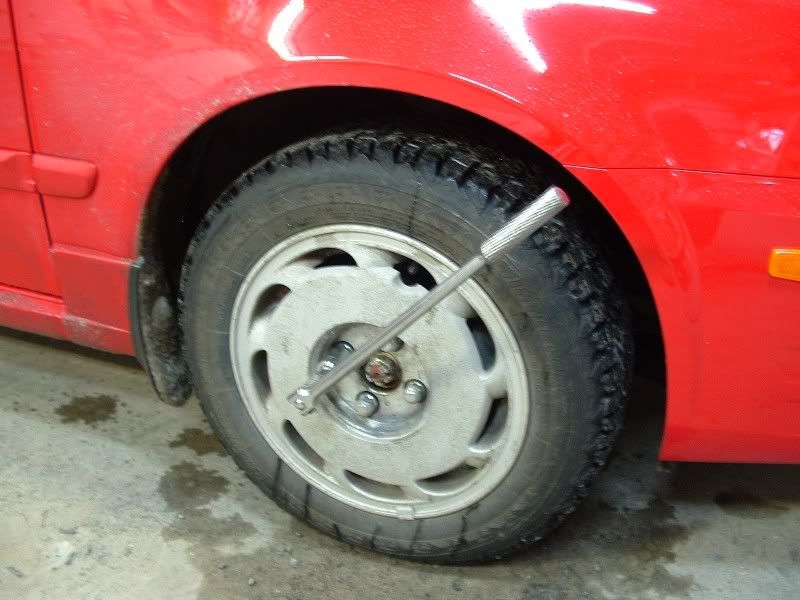 2. After making sure the car isnt going to fall on you, remove the wheel it should look like this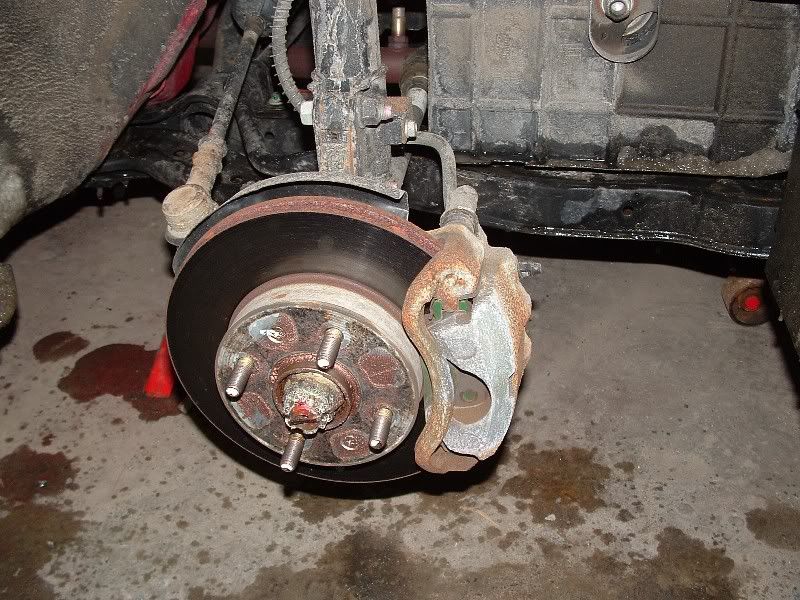 To remove the caliper bolt use a rachet and a short 12mm Socket and ratchet, lift up on the caliper you might have to pry if it doesnt come off. Slide off the caliper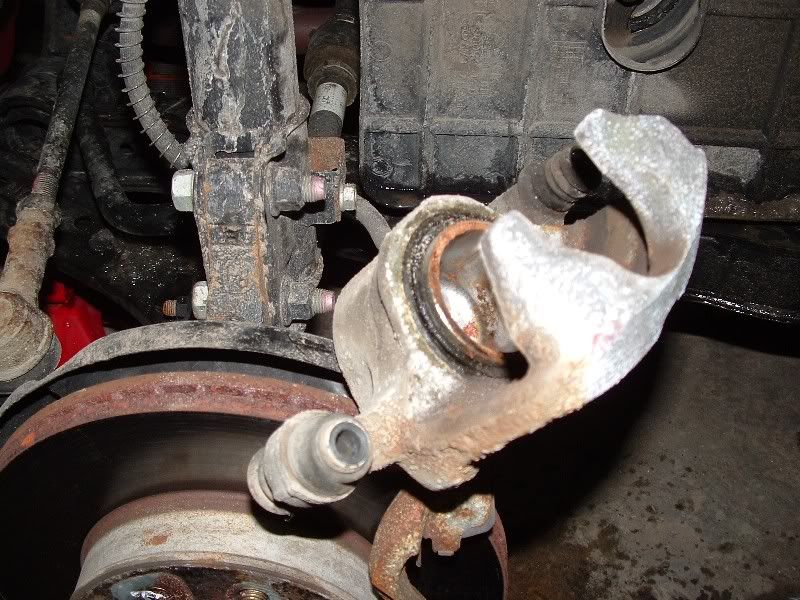 should look like that.
3. Remove the lower slider, it should just pop out if it isnt siezed like 95% of the Hyundais I see. Clean the entire caliper in brake cleaner. Clean out the boot and slider and repack it with synthetic grease. I've tried alot of products and i've found super lube holds up really really well. The top slider is a pin attached to the Pad carrier. Clean it out with brake cleaner and repack.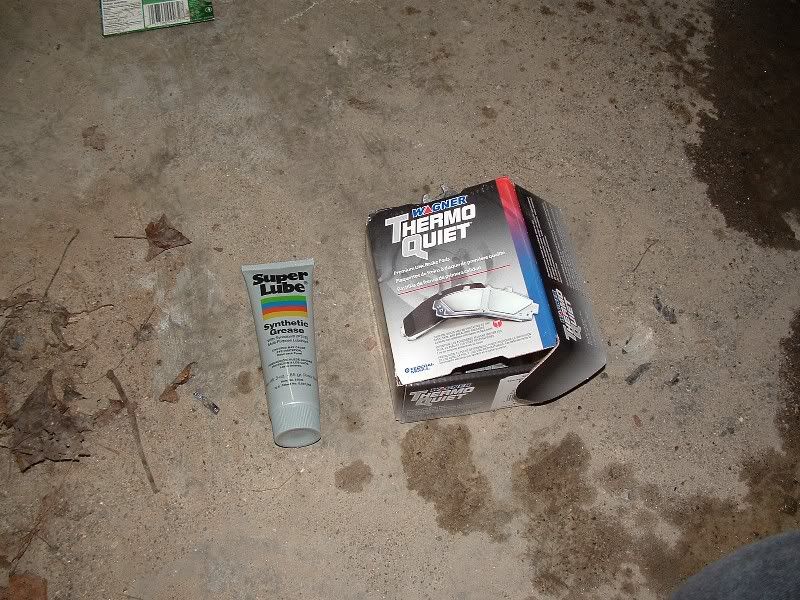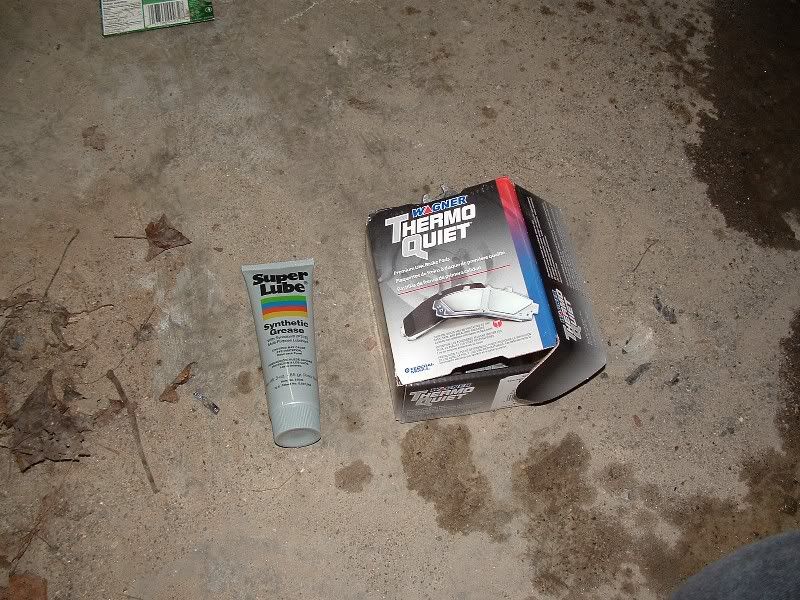 4. Now its time to remove the pads. The pads just pretty much pop right out unless they are rusted in. If they are use a flat head screw driver to pry them out. Now that the pads are removed remove the brackets and clean them with a wire brush and sandpaper. Then brush some anti seize compound on to prevent them from getting stuck. Reinstall the brackets and install the pad with the wear sensor in back and the other one in front. Make sure the pads are seated correctly.
Pads
New Pad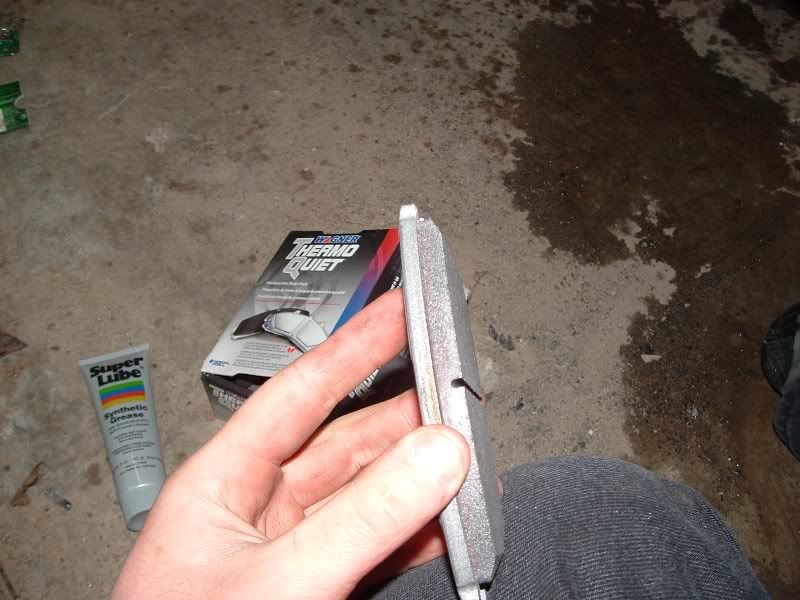 Oem pad with new pad. OEM is already glazed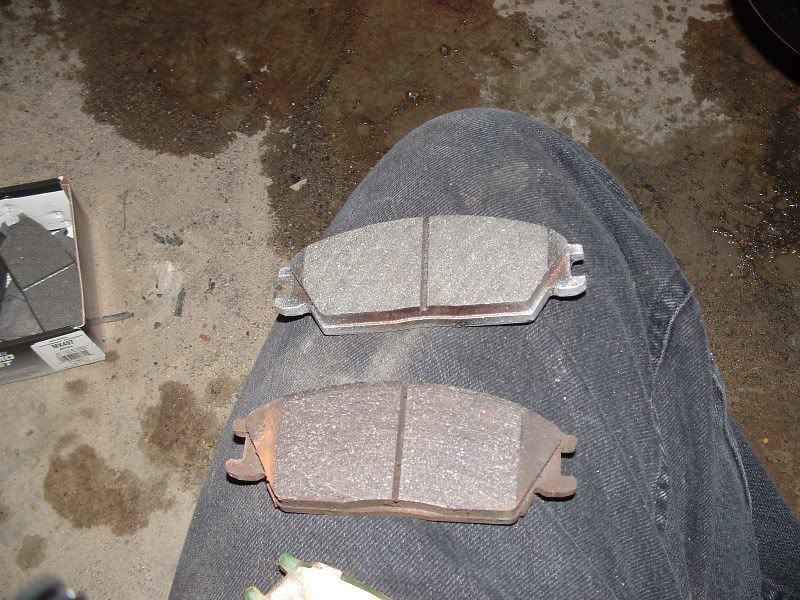 OEM Pad thickness. OEM pads are made for long life and normal driving. Once they heat up they suffer from heatsoaking which causes fade. At this point the car doesnt stop very well or doesnt stop at all.
Compress the caliper piston back into place with a pair of channel locks or a C clamp. Press the piston in very slowly, If it is not going back in the piston is seized and you need to get a new caliper or rebuild kit. Place the caliper on the upper pin, the caliper should just fall into place if not check the seating of the pads and then just give a few taps with your fist. Reinstall the lower bolt with some super lube around it and tighten the bolt bolt down.
It should look like this when done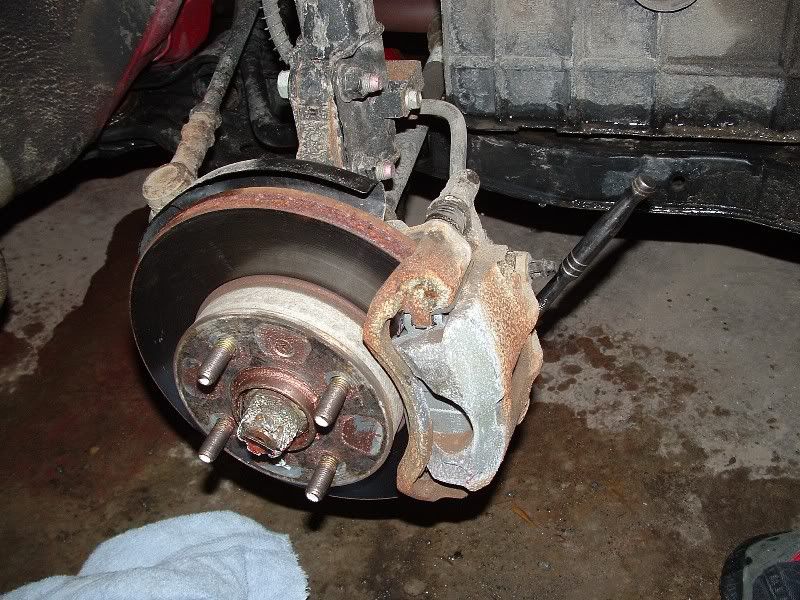 ******* If you are changing the rotor*******
To remove the Pad carrier there are 2 17mm bolts located behind it. Remove them and the carrier will come out. There are 2 set screws on the rotor which 99% of the time are rusted to hell, so you need an impact screwdriver or a torch to heat them up. Once they are removed 99% of the time the rotor is rusted onto the hub... to remove it install all 4 lug nuts and hit the rotor from behind with a larger hammer or other precison too. Hopefully after a few hits it comes loose or cracks. If not soak the rear of it in a good penetrating oil for a few mins and start hitting again. Install is reverse of removal.
Reinstall wheels, tighten by hand. Lower car. Torque wheels to 85ftlbs. Go in the car and pump the pedal until it becomes hard. Start the car and pump a few more times. Check fluid level then take the car for a test drive where you will bed the brakes in
To bed the pads in. Drive the car up to 60km and slow down to 5km 3-4 times, then drive up to 100km and come to a stop by pumping the brakes do this 2-3 times. Avoid using the brakes much when you are driving home. Park your car and let the brakes cool and sit for 6-10h.
Enjoy your new brakes
I hope this helps out some of you. I didnt change my rotors because they are still new. The job took me 15 mins.
[Edited by GregsterGSi on Feb 14, 2006 5:38 PM]
[Edited by GregsterGSi on Feb 14, 2006 5:41 PM]