Discussion Starter
•
#1
•
ORiNOCO Classic Gold PC
NOW ON EBAY: http://cgi.ebay.com/ws/eBayISAPI.dll?ViewItem&item=6856516779
Actual pictures of card and everything that comes w/ it. =) (I should be a product photographer)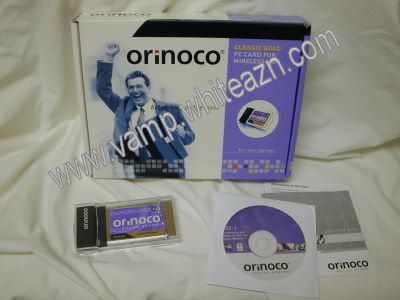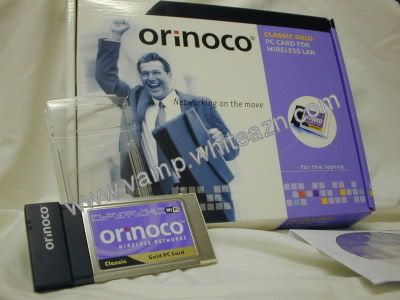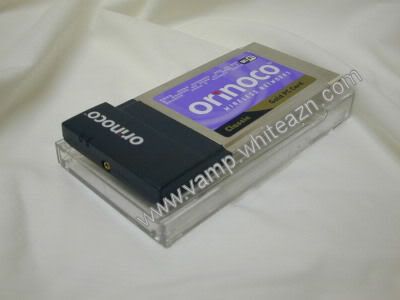 This is the Holy Grail of wardriving wifi cards (some of you may know of my ways :smoking: ). These Orinoco Classic Golds are hard to come by now a days. So whether you are wanting to borrow your neighbors WiFi or the person 2 doors down this is the card for you.... or If you'd like to use it on the network in your house, work, airport etc, this one is for you. Antenna Jack: External antenna socket / connector is an MC Jack. You can attach an antenna with an MC plug. You can hook up a regular antenna or Cantenna to get those hard to reach areas in your house (or on your street/block).
--------------------------------------------------------
Description from Manufacturer
The right technology for the right solution
The ORiNOCO Classic Gold PC card can be used anywhere to connect to a Wi-Fi network. The Classic PC Card can also be used as a radio in the ORiNOCO AP-2000, AP-2500 and Outdoor Router products. The card delivers high-speed wireless networking at 11 Mbit/s, operating in the 2.4 GHz unlicensed frequency. With superior radio receiver sensitivity and resilience to microwave interference, ORiNOCO has proven to be the best 802.11b radio in the industry – delivering unbeatable range and throughput performance.
Diverse levels of data protection and security
The ORiNOCO Classic Gold PC Card is equipped with a choice of security levels to protect your data. The Gold PC Card offers enhanced security, with WEP Plus, 802.1x, and 128-bit WEP employing RC4 encryption.
The ORiNOCO Classic Gold PC Card is part of the complete ORiNOCO product family of infrastructure and client products – all you need to get connected in the office, hotspots, or at home.
ORiNOCO CLASSIC GOLD PC CARD FEATURES
Plugs directly into laptop type-II PCMCIA slot
Installs in an ORiNOCO AP-2000, AP-2500 or Outdoor Router
Broadest operating system support
Intuitive ORiNOCO Install Wizard for easy driver installation
Wi-Fi (IEEE 802.11b) certified interoperability
Low power consumption
High performance 11 Mbit/s data rate.
Wide coverage range of up to 1,750ft/550m
Industry-leading radio design
High-level security with full 128-bit key, RC4 encryption or 64-bit WEP encryption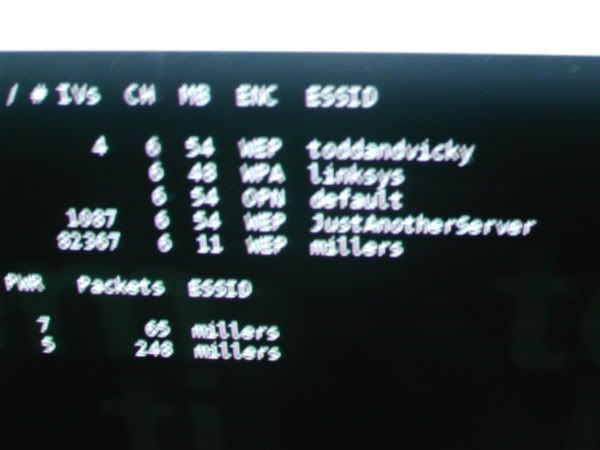 Muhahahah (blurry but a bunch of Networks by my house and down a few streets)
[Edited by ftwvampftw on Mar 4, 2006 9:33 PM]
[Edited by ftwvampftw on Mar 4, 2006 9:33 PM]
[Edited by ftwvampftw on Mar 6, 2006 12:12 PM]
[Edited by ftwvampftw on Mar 6, 2006 12:13 PM]
[Edited by ftwvampftw on Mar 11, 2006 3:58 PM]