Discussion Starter
•
#1
•
FS: Panasonic CD MP3/WMA Player (CQ-DF583U) w/ Remote
MSRP around 200.00+
$50.00 obo shipped (weighs a pretty penny)

Upgraded so dont need this unit any more. No blemishes, works perfect. Still looks and works like it was new out of the box.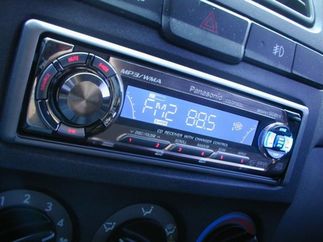 http://img.photobucket.com/albums/v629/03accentgt/DSCN0047.jpg
Looks Great With My Lighting Kit =)



Desciption:
CQ-DF583U
Panasonic CQDF583U CD/MP3/WMA Receiver with CD Changer Controls

Product Features
Rotary Knob
Black Chrome Panel with Blue Display
Slim Fit Mount
Pre-Amp Outputs dual outputs (2.5V/200 ohms)
CD/CD-R/CD-RW/MP3/WMA
Sirius® Satellite Ready
4-Channel High Power Amp 50W x 4
MOS-FET Output Stage
Blue LCD Illumination Color
Red/Blue Button Illumination Color
S-HDB (Super High Definition Bass)


CD Changer Control[/b]
Track/Disc Scan, Search, Track/Disc Repeat, Random Play
Radio Features
Alphatuner V
18 FM and 6 AM presets with preset scan
Auto preset memory with scan
FMO (FM Optimizer), AFE (Adaptive FM Front End), and INQ (Impulse Noise Quieting)
Muting
Attenuator
Bass, Treble, Balance Fader Controls
Multi-stage Noise Shaping 1-bit DAC
3-beam Hologram Pickup
One-chip Digital Circuit
8x Oversampling (Digital Filter)
CD Controls
Scan, Search, Repeat and Random Play
Text Display
Level Meter
Open Face CD Access
Removable Faceplate
Built-in Quartz Clock
Wireless Remote Control
Speaker Impedance 4-8 ohms
Frequency Response (±1dB) 20Hz - 20kHz
S/N Ratio 95dB
Channel Separation (1kHz) 65dB
Dimensions (H x W x D) 115/16" x 7" x 61/8"
If you dont want this. Please dont post. If you want to bump for free please feel free.
[Edited by ftwvampftw on Feb 21, 2006 8:05 PM]
[Edited by ftwvampftw on Feb 21, 2006 8:09 PM]
[Edited by ftwvampftw on Feb 21, 2006 8:09 PM]
[Edited by ftwvampftw on Feb 21, 2006 8:09 PM]