Discussion Starter
•
#1
•
finally decided i needed to catch up on all the things i had to do to the tib before i started adding more stuff to the list. its really slow going what with school and my two other jobs right now, but im able to fit in a good couple days on the weekends. though it might be interesting for other people to see what pics i can take along the way.
my chariot while the tib is down:
it actually rides quite nicely(big difference from the coilovered tib) and gets decent gas mileage. but god damn i cant wait to get the tib back on the road. the truck is SLOW, primarily because i dont want to rev it anywhere near 3k. it has 130k miles on it, is a ford, and is not mine and i dont want to pay for anything that breaks. so ive been driving like a grandma lately.
anywho, this is the list of things that will be accomplished by the end of it all:
1. sound deadening
2. internal, amplified radio antenna
3. alarm w/remote start and following features:
keyless entry
hatch pop
sunroof/window roll up and down
2 closed loop sensors
backup battery
9 tone siren
interior piezo pain generating siren(hurts bad)
shock sensor
tilt sensor
microwave(proximity) sensor
glass break sensor
many more that i cant think of now
4. seat heaters(to be activated by alarm as well as switch probably)
5. complete led fogs and tails using premade breadboards, not led bulbs.
6. All lights will be leds(except HIDs)
7. make new courtesy light covers using a plastic molding and casting kit.
8. re-route washer fluid lines and squirters to wiper cowl(dont want to drill through my new cf hood
)
9. two additional interior fuse blocks. one ignition, one constant.
10. retint windows. kinda messed up my first time around. cut a little to much off in some spots, never did complete hatch glass(after trying 3 different cut-outs). first one wasnt even close, second ended up wrapping back on itself before i even got it out to the garage, third was really close, but i didnt make the little "fingers" small enough, and i couldnt shrink them enough to make em flat. having to remove tint residue from the hatch glass once before, i quickly tore it off before it could dry and decided i would give it another try some other day.
11. 1.8l ecu. i do have one, not to sure if ill put it in yet.
12. hidden garage door opener somewhere in the car. picked up a tiny switch for it, thinking glovebox would be a good spot.
13. shark spoiler i still have to mold further and paint(will attempt with rattle can). it will have a blue and red brake light, with a switch i can change that will also be fore the red/blue tails i will have. :sasmokin:
14. bunch of other random led/neon things here and there. def. wont over-do it though, im starting to lose grips with the ricey side of me.
15. paint a bunch of things. so far, wiper cowls and door panels glossy black(had rest of interior glossy black, just never got to driver side panel). spark plug cover and front SB a much nicer shade of blue than i had before. considering painting the actual wiper arms too.
16. autodimming, compass, and temperature rear-view mirror. dims everything to a nice shade of blue, its sweet.
i think thats all. now on to the things ive done so far(with pics) along with picture of things still to come...
i decided to rip everything out to make the whole process easier: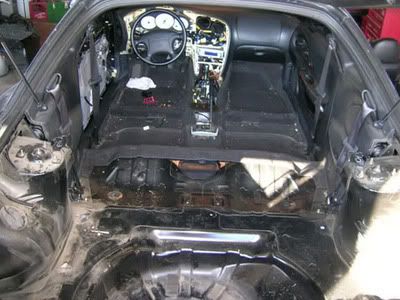 everything out, and surface cleaned:
http://i22.photobucket.com/albums/b308/tibby01/DSCN0396.jpg[/image
[IMG]http://i22.photobucket.com/albums/b308/tibby01/DSCN0397.jpg
and front bumper because i had to swap out a bad ballast on my HID kit:
the graveyard of parts everywhere: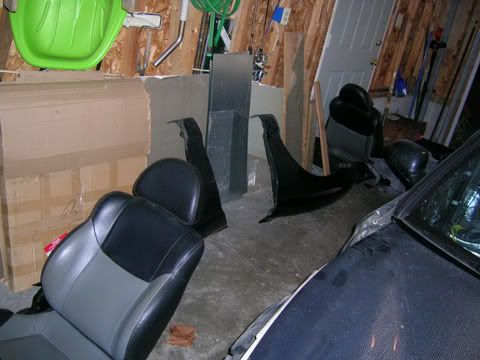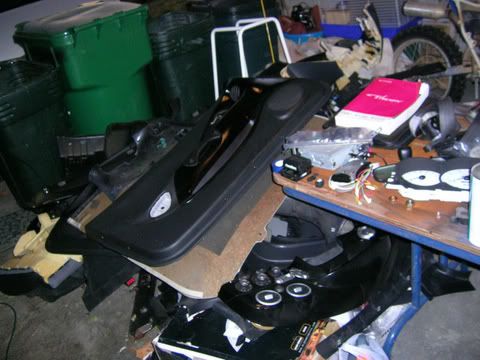 now the sound deadening. im using edead v1. 120 sq ft. for 100 bucks on ebay. i couldnt pass it up. i still have to cover a bunch more spots. its going slow b/c i dont want to cover any wires up and getting the f***ing clips out that hold the wire bundles to the body is a HUGE PITA. taking off every crew and then putting it back in means about 200 screws in all. i seperated all in nice little baggies and labeled them though :lmao: . I have already layed down about 75 sq. feet one layer everywhere, and then ill go back and hit the layers that i think still need it. i ripped that peice of **** heat cover(the one around the shifter assembly) out too. i was using a heat gun to soften the edead and decided i would test the crap. it friggin MELTED.
so ive covered the entire floor, and most of the sides and roof. still have to do doors and hatch. i MIGHT do the firewall, but thats gonna be a pain.
pics: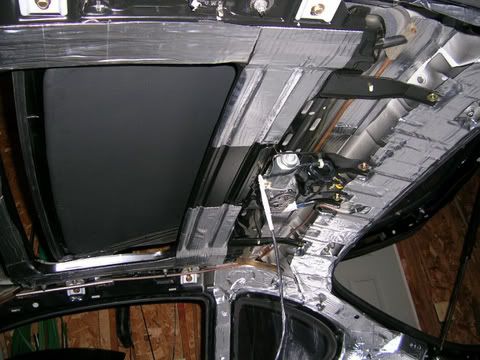 also did the sunroof:
but then i realized that when i got everything bolted back together, you could see some of the silver backing from behind, as the interior cover is only so big. so i gave it a couple quick coats of primer and paint, and now its barely noticeable:
painted a few peices here and there: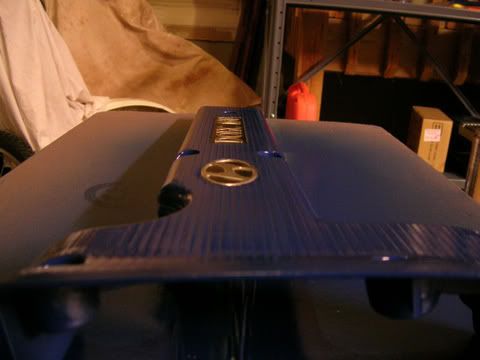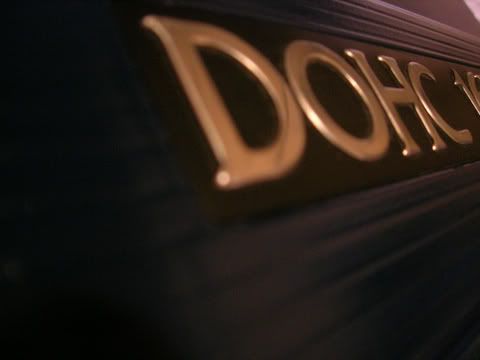 (close up of the taped off paint job, just for you redz...
)
(just primer, they are painted same color as SP cover)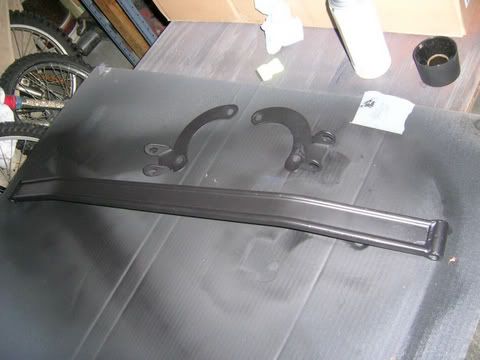 shots of some various things:
my new cf hood...
shark spoiler...
mirror...
tails and fogs torn apart, awaiting leds...
and the hyundai keyless entry brain i took out, alongside a DEI alarm that i guess the previous owner had installed. i guess ground was just cut off from it. in fact, writing this post i am remembering a very odd ground screw and crimp terminal without any wire running to it. solves that mystery...
uh yeah, thats all for now. snapped two bolts today, kinda pissed about it. one is the mounting stud for the top part of the sunroof(yeah, bad. hope there is no vibration and that the other 3 hold good enough). other is the bolt that holds the metal center console bracket(right inbetween the front seats; the thing the console screws into) to the body of the car. anyway, figured i would post up some pics, maybe give some people ideas. also thought it would be good to split things up, i will have tons of pics at the end and probably wouldnt have felt like taking the time to make a super huge post. this was long enough. ill probably be updating this thing every sunday, after i get done a good chunk of stuff.