Phenolic Spacer Installation DIY
These instructions should be adequate to install a phenolic spacer on your 1.6l DOHC Accent. Most of the instructions are also correct for a 1.5l SOHC and some of them are basically universal. If I don't cover something feel free to ask for questions or clarification.
I got my phenolic spacer from JRM here on the forum.
For additional pictures see here:
187sks/Accent/Phenolic Spacer - Photobucket - Video and Image Hosting
Disconnect your negative battery cable. You will be working with your fuel system and this is truly a required step for this job in my eyes.
Remove your air intake. If you have a CAI or factory intake tubing remove enough parts to allow you to work freely around the intake manifold. If you have a short ram intake remove the entire intake. (shown partially disassembled)
Now if you have not done it before you should do the throttle body coolant bypass mod. This will maximize the results of the phenolic spacer. In fact if you skip this step the phenolic spacer will be of little use as these two mods really go together.
Disconnect at both ends and remove coolant line which connects to the driver's side throttle body inlet. This hose will be discarded.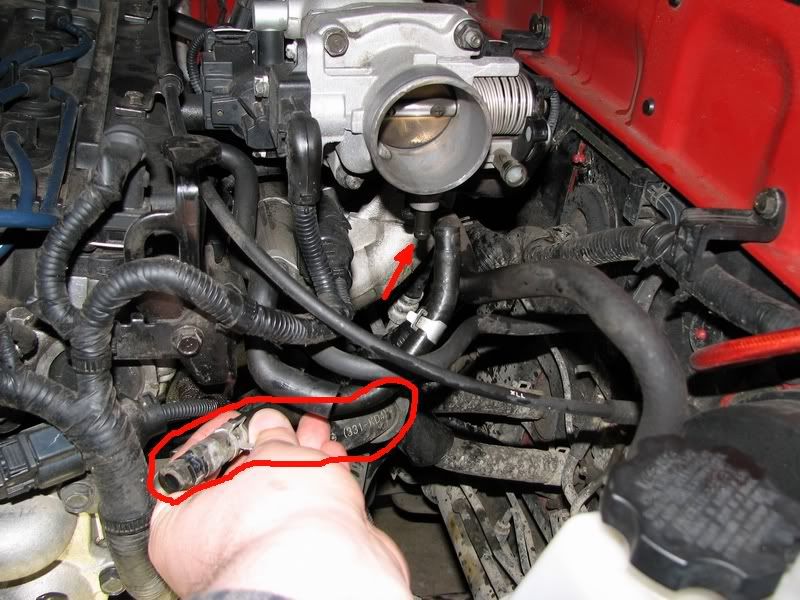 Disconnect throttle body end of the passenger's side throttle body coolant line and connect it to the thermostat area where you just removed the other coolant line from. This loops the coolant back around into the block instead of heating up your throttle body. (shown installed)
Now that the TB coolant bypass mod is taken care of lets continue. Disconnect the brake booster vacuum line and a bunch of sensor connectors. If it hooks to the intake manifold and doesn't plug into the fuel rail disconnect it.
Continue to disconnect all electrical connections. Disconnect bracket on back of intake manifold. Unbolt fuel rail. Disconnect fuel injector plugs as required for access.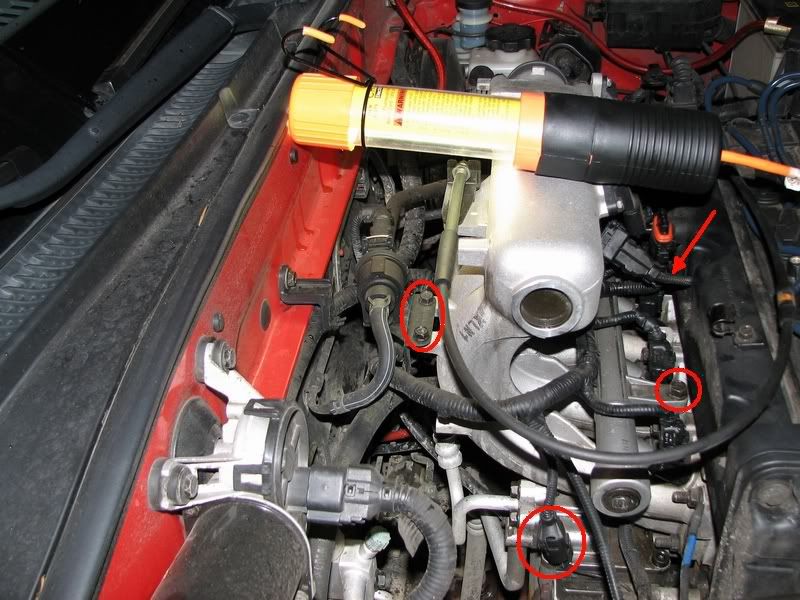 Pull to disengage fuel injectors from the head and loosen Fuel rail
Rotate fuel rail assembly to allow for easier access to intake manifold bolts as shown
Disconnect anything interfering with your access including ISA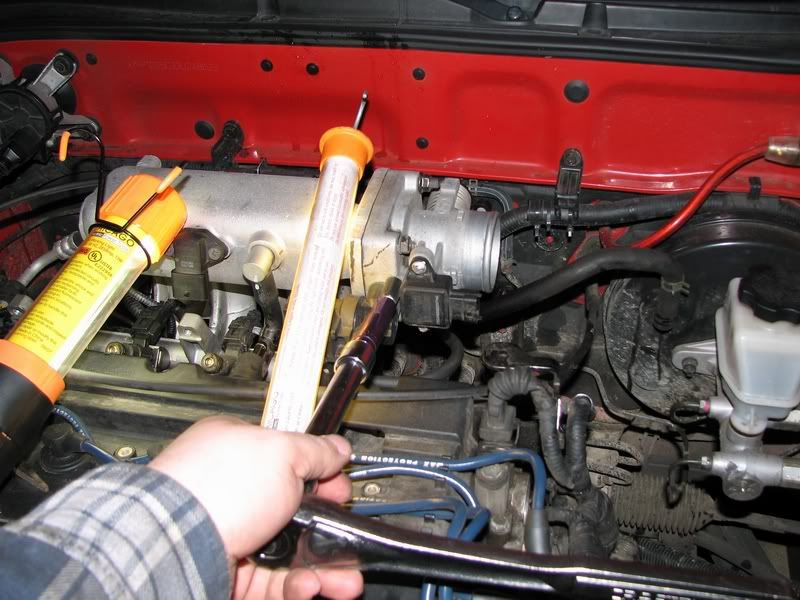 Remove 4 side nuts, 3 top center bolts, and 2 bottom center nuts on the intake manifold flange. The bolts on the top can be removed with a wobble extension or a box end wrench.