Discussion Starter
·
#1
·
Head: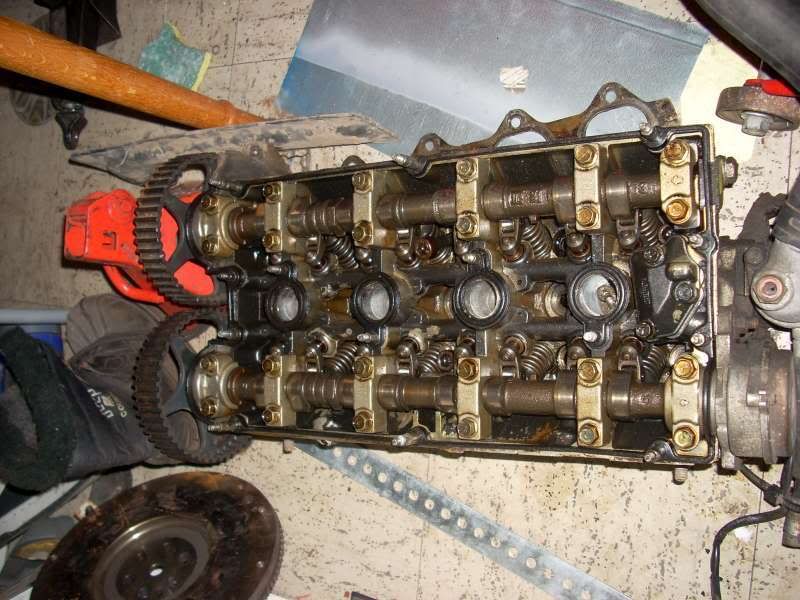 Block: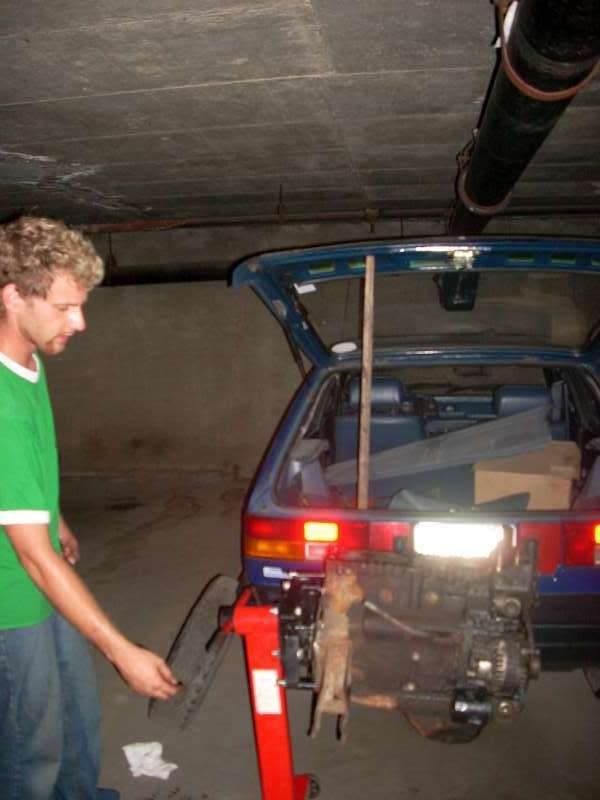 Dutty, dutty pistons!
I can use the AC bracket to fashion a S/C application (first thing's first: get it put together)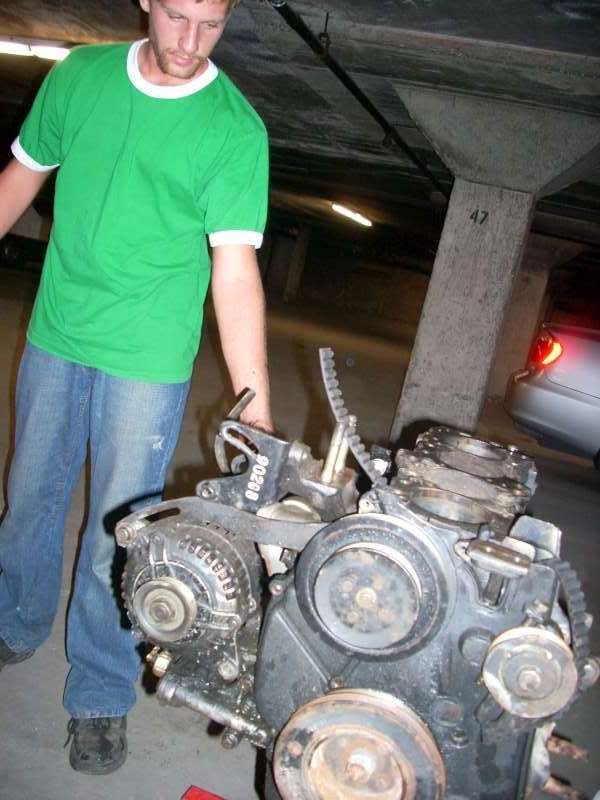 DOHC 2.4L Pony? Yes, yes, why eee ess!
Turns out the G54B totally does not align with the coolant passages, nor do the domes lign up to the cylinders. Also, SOHC VS DOHC is what gave it away for me personally when I looked at a 84 Aries (using said G54B) at a wreckers. Thanks for the guys at G54B.com for clarifying that I cannot use that engine/head combo. They do however continue to be useful for mating a trans that will work with this (I suspect a pony trans will last about 2.3 days before some gear shearing takes place).
Cost so far: Block: $60 (spins) 170KM, head: $80 (spins) 240KM. At this point, a galant timing belt set and galant timing gears (not TOTALLY necessary) and a new headgasket and I allready have 180HP and close to 200 ft lbs.
But!
Planned mods: JG or Wiseco pistons: $500 (8.5:1) DKS (HKS regrind) intake cam 272, (about $350 for intake/exh set, so half that per cam) adj. cam gears ($140 ebay) 5 angle valve job + .030 shave from head (about $350, I know a good guy) Port match, port + polish intake runners + domes (free I'm doing it) lightened 4G63 flywheel (or Beta, if it fits, it can be seen in the first pic, also it is cheaper) some good clutch (unknown at this point - flywheel dependent) a nice set of lightweight and strong springs, and good lifters (these are mechanical rollers!!! I love this head!! NO HLA!!), a silent shaft eliminator kit (it adds about 8 pounds to the engine, and introduces parasitic losses at the expense of a smooth idle, whatever)
Intake: TWO of these!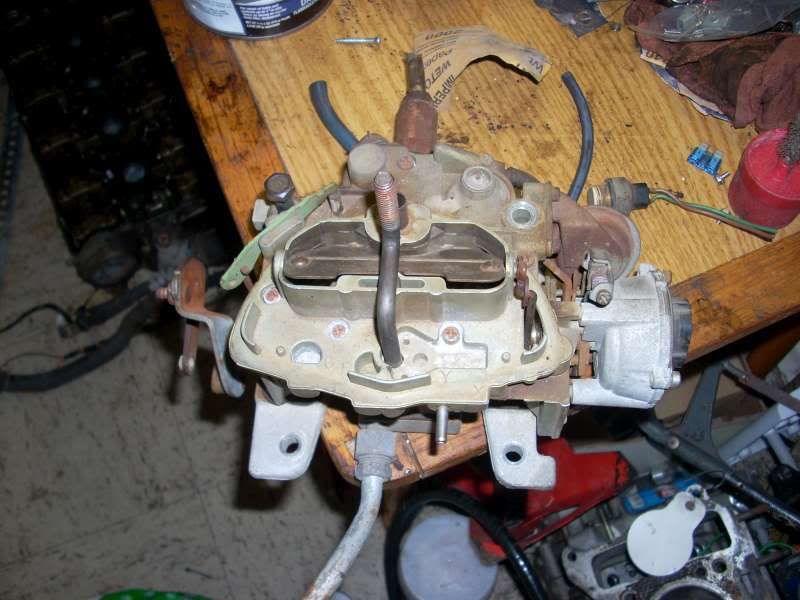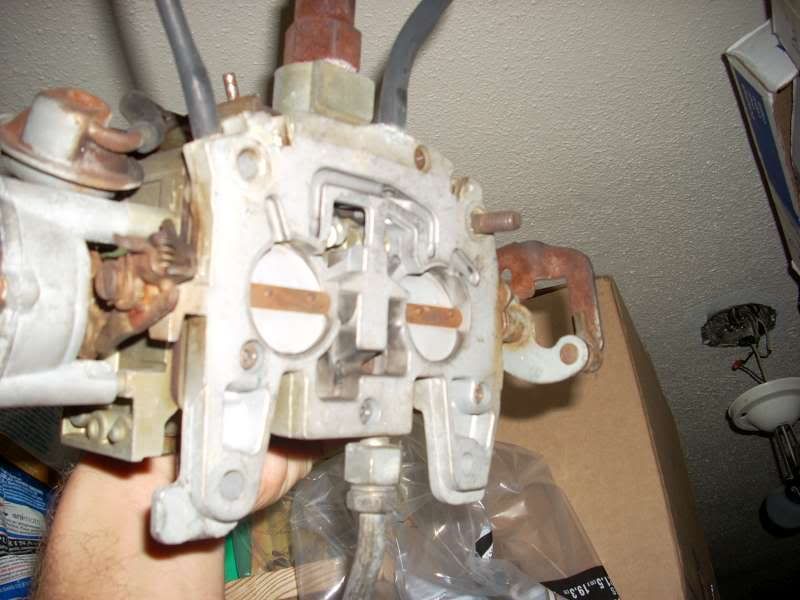 These are 34mm ports. There will be 2x 2BBL carbs!!
!!!11!one!
Rochester DualJet 210's.These things power 305's. I will have to fab up a plate that connects the Elantra 1.8L IM ports to these carbs. I will also have to detune the **** out of them, for instant throttle response and then a progressive increase. These have no secondaries, so it might bog at low RPM at WOT.
The reason I'm doing this: S/C upgrade in the future, 4-5 pounds tops. The only thing I will need to complete this upgrade is DKS exhaust cam, and a good degreeing of the whole setup. I will also have to make a sealed intake (NO problem there, all I need is two air cleaner housings, a bit of brazing, and some sealing) and some upgrades to the jets. Also, fabricating linkages for two carburators is definitely going to be HUGELY time-consuming, but it won't cost much (just time)
I have NOT forseen the exhaust at all, I was thinking a 4-1, but looking at some DSM stuff, I think I can use the 4-2 part, then make something work from the 2-1 part onwards myself with some GM collectors.
I will also have to find a way to use the regular MSD with that stupid coil-wannabe sensor that sends to a coilpack...
I will say, for all the unforseen things (bracket fab, trans milling, driveshaft creation and balancing, brake booster/prop valve issues, etc) I'm gonna allocate $2,000.
For now, the engine buildup will commence! It will not be fast though, I have 2 jobs and full time school. Once the engine is assembled (I hope my March) I will work on the IM and the exhaust. Hopefully by HS 2008, I will have the N/A part down, complete with Mustang 8.8 rearend and a hybrid 03-55L trans mated to a 5spd 2.8-3.1 camaro (third gen) trans.
I'll just be happy with the COMPLETE engine by mid summer. We'll see. For now I must dismantle the engine.